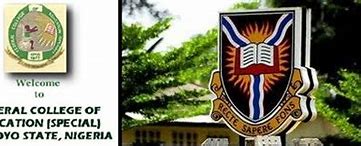 FCE (Special) Oyo Affiliated to UI Post UTME Screening 22/2023
The Federal College of Education (Special), Oyo, in affiliation with University of Ibadan (UI)
announces its Post UTME screening for 2022/2023 academic session. The exercise is
scheduled for 30th May, 2023. This notice applies to candidates for 100 level admission
only.
Date and Venue of the Screening Exercise
The post UTME screening exercise is scheduled to hold on Tuesday, 30th May,
2023. The venue of the exercise is Oba Adeyemi Hall, within the Federal
College of Education (Special), Oyo. The exercise will commence by 9:00 am.
Requirements for the Screening Exercise
Candidates are expected to come to the screening venue equipped with all
necessary writing materials. It is important to reiterate that this invitation is
strictly for candidates who applied for the 100 level admission and not for
Direct Entry candidates.
Notice to Direct Entry Candidates
Candidates who applied for Direct Entry admission should kindly note that this
announcement does not apply to them.
Conclusion
We hereby use this medium to wish all eligible candidates the very best in the
forthcoming post UTME screening exercise.
For further inquiries, interested persons are encouraged to visit the
institution's website or send an email to the designated email address.
Good luck to all the prospective students!