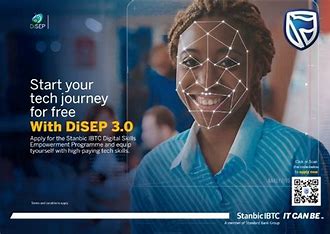 Stanbic IBTC Digital Skill Empowerment Programme 2023
Stanbic IBTC Digital Skill Empowerment Programme (DiSEP) 2023 is an initiative to train
tech enthusiasts in digital skills, making them competent in the job market. The program
nurtures development, supports Stanbic IBTC's digital transformation, and addresses the
scarcity of digital talent.
Stanbic IBTC, a leading financial service institution, is currently accepting
applications for its prestigious DiSEP 2023. This initiative aims to equip eligible
candidates with essential digital skills, creating an advantage for them in
today's competitive employment market.
DiSEP 2023 is engineered to identify and attract digitally proficient individuals,
train them, nurture their development, and position them to drive the digital
transformation journey of Stanbic IBTC Group. Furthermore, it seeks to fill the
void of digital talent scarcity in the job market.
This intensive programme offers a unique avenue for resourceful and
passionate young individuals to acquire the necessary skills for a fast?tracked
digital career.
The Stanbic IBTC Digital Skills Empowerment Programme not only equips a
 select group of eligible candidates with digital skills but also helps them
expand their digital competencies. This makes them ideal candidates for
digital roles within and outside Stanbic IBTC.
The eligibility criteria for this programme include:
A strong interest in pursuing a career in the following technical fields: IT
Software Development, Cloud Security Analyst, Cyber Security Engineering,
Data Engineering, Mobile App Development, Blockchain Development, IoT
Development, UI and UX Development, Linux OS Administration, Database
Administration, and Applications Support.
A minimum of a Second Class (or equivalent) degree in an Information
Technology or Engineering?related course from an accredited University.
A minimum of five credits (Mathematics and English inclusive) in GCE, NECO,
or its equivalent.
Applicants must have concluded NYSC and possess a discharge certificate.
Applicant's Date of Birth, Gender, and Class of Degree must be clearly
stated.
As part of the selection process, shortlisted candidates will be required to pass
an online pre?training assessment.
Now is the time to actualise your tech dreams with Stanbic IBTC! Apply for the
Stanbic IBTC Digital Skill Empowerment Programme today and prepare for an
exciting journey in the digital world.
To apply, visit the Stanbic IBTC DiSEP Application Portal.
For additional information, check out the official DiSEP page. Don't miss this
golden opportunity to uplift your digital career. Good luck!